Upcoming Concerts & Artists
Diego Figueiredo
GRAMMY-NOMINATED GUITAR PLAYER
​Diego Figueiredo is a new star of the guitar world. He is only 39, and he has released 26 Cds, 3 DVDs, and he has played in more than 60 countries around the world. He is the winner of several important competitions like the Montreux Jazz Competition and some others. Diego is presenting now his concert " From the Classical to the Jazz". It is a fusion between Jazz, Bossa nova, and Classical music. Diego has a unique interpretation, with a lot of technique, much emotion, and his show has been a great success for the audience.
Diego Figueiredo was born in Franca, Brazil, in 1980, and at the age of 4, he used to strike poses carrying his small guitar. At six, he got a mandolin, which was kept in a very special place in his house. Diego played many instruments before choosing the electric guitar when he was twelve, playing in theaters and local pubs, revealing the great art of improvising and harmonizing. At 15, he conquered theaters and nightclubs in many different Brazilian states, playing solo or with renowned musicians.
Besides being a guitar player, Diego is a producer, arranger, orchestrator, and multi-instrumentalist.
Brazil continuously fosters new stars that impress and amaze their audiences with their joy and exceptional technique. Diego Figueiredo makes new fans every time he enters the stage, and very few others play the guitar as expressively as he does.

Having received awards twice at the "MONTREUX JAZZ FESTIVAL" as one of the greatest guitarists in the world, Diego Figueiredo performs one amazing concert uniting technique and emotion in a fusion of Brazilian music and jazz. Diego Figueiredo presents the most requested show of Brazilian music.
 
With a variety of work already released, Diego is doing shows on the most important stages around the world enchanting and charming the public wherever he goes with his unique touch. Diego has collaborated and performed with names like Gilberto Gil, João Bosco, Roberto Menescal, Toquinho,  Janis Siegel, Stanley Jordan,  Joao Donato, Larry Coryell, Ken Peplowski, Lewis Nash, John Clayton, Cyrille Aimée, Jeff Hamilton, Terell Stafford, Wycliffe Gordon, Bill Cunliffe, Dick Hyman, and many others. Acclaimed by critics as the newest sensation in the guitar world!
"Diego Figueiredo is one of the greatest guitarists I've seen in my whole life. The world needs to listen to his music".  (George Benson)

"Diego Figueiredo is the new Baden Powell" (Jazzlive – Denmark)
 "I have seen and played with many wonderful guitar players like Joe Pass or Baden Powell, but no one is like Diego. His ability and swing are unique".  (Flora Purim)
He has performed in great places like Montreux Jazz Festival, Hong Kong Jazz Festival, Rio das Ostras Jazz Festival ( Brazil), Oakville Jazz Festival ( Canada), La Paz  Festijazz, Jarasum Jazz Festival (Korea), Copenhagen Jazz Festival, Douro Jazz (Portugal), Vail Jazz Party, Syracuse Jazz Festival,  Aspen Jazz Series, Dizzy´s Club NY, Birdland NY, Joe´s Pub NY, Jazz Alley, Guanabara ( London),  Harlem Jazz Festival ( Netherlands), Jazz Port Townsend,  Django Fest, Zoellner Arts Center, Centre Stage Reston,  Bourbon Street (Brazil), Onda Jazz, Jazzhus Montmartre (Copenhagen), Quasimodo ( Berlim),  Zhuhai Jazz Festival (China), Vitello´s Jazz, Miami Festival, Jazz on the Platz, Jazz Bali, Guitar Masters ( German) and hundreds more.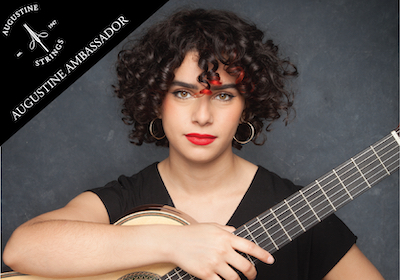 Leonela Alejandro
Born in San Juan, Puerto Rico in April 2000, Leonela formally began her musical education when she was seven years old. During her first years, she studied with various Puerto Rican teachers including Jomel Rivera, Julio Reyes, and Rey Nieves. She later became a student of Maestro Iván Rijos at the Escuela Libre de Música de San Juan and then at the Conservatory of Music of Puerto Rico, where she completed the first two years of her undergraduate studies. In 2018, Leonela transferred to the University of Wisconsin Milwaukee to complete her Bachelor's degree with Professor René Izquierdo.
Leonela has received prizes in various level categories at festivals including Boston GuitarFest, Le Domaine Forget, Indiana Guitar Festival & Competition, Chicago Guitar Festival & Competition, Columbus Guitar Symposium, Southern Guitar Festival, Troy University Guitar Festival, José Tomás Villa de Petrer Guitar Festival, the Josefina P. Tuason International Guitar Competition, Louisville Guitar Festival & Competition, Florida Guitar Festival, and Appalachian State Guitar Festival.
Leonela is currently living in Columbus, Georgia where she is pursuing her graduate studies with Dr. Andrew Zohn at CSU's Schwob School of Music. Leonela is an Augustine Strings Ambassador and plays a Stephan Connor guitar.
Please check our schedule for more information.